By the Victorian era, an essential table item was the napkin ring, which came in a variety of forms and materials.  Napkin rings rose to popularity in the early 1800s and were an invention of the European upper classes.  Originally, they were used to identify which napkin belonged to whom within the household as laundry was done once a week. The use of napkin rings ensured that the same person received the same cloth napkin, and that the soils were not that of another.
The most popular material for napkin rings was silver or silver plate and were often given as gifts at occasions such as Christmas, weddings, and baptisms.  Being of silver or silver plate, they were also easy to have engraved, making each one personalized.  Several napkin rings in the museum's collection have names or initials engraved in them or have small messages like the occasion they were given, or who they were given from.  The figural napkin ring, one with animals, etc. rose to popularity in North America.  Rings could also be purchased in sets numbering from four to twelve.  The set seen here are stamped with numbers 1-4.
At the turn of the 20th century the tradition of the napkin ring was still going strong.  In the spring T. Eaton's catalogue of 1901 several napkin rings can be found.  The silver-plated rings came decorated to match a salt and pepper set and could be purchased for between ten and twenty-five cents, depending on ring width.  In the fine silver section, there were another four rings available, all figural in style.  Two featured chickens and wishbones, one apple blossoms and the other a lyre. They ranged in price from fifty cents to $1.25.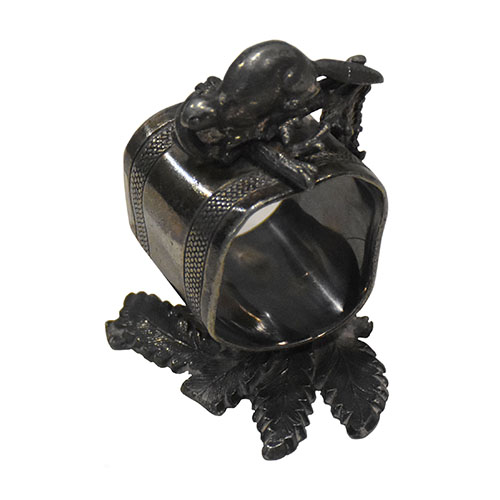 During the early 20th century much changed in respect to the opinions regarding hygiene, both personal and in the realm of housekeeping.  Laundry began to be done more often and could be done faster with the rise of electric washing machines.  The need for napkin rings began to wane.  This can be seen in the 1927 Sears & Roebuck catalogue which features only two napkin rings, both silver-plated.  One ring is more of a flat oval while the other is a traditional ring. No figural rings are featured.  Also found in this catalogue are paper napkins.
Through the 20th century napkin rings fell out of use as they were no longer needed, however due to often being silver, and possibly being kept as a sentimental piece, napkin rings have become treasured family heirlooms.  Seemingly, because in modern times the "good silver" only comes out for more formal occasions, napkin rings are associated with fancy formal table settings versus the everyday family items they were and are making a comeback in table settings.  In the modern setting they are being used in reverse to their original intent – they are used as a decoration on cloth napkins indicating they have not been used and are used for visitors rather than for the family.