Access to medical care has always been a priority for Bruce County residents.  In the early settler days, having a doctor within a community meant there was someone to treat illness and perform minor operations.  For more serious matters, there were no hospitals close by and many folks had emergency surgeries, such as appendectomies, performed on their kitchen tables within little to no anesthesia and with the aid of whomever was around.  The closest early hospitals included Owen Sound, Hanover, and Wingham.  Roads were not what they are today, making travel difficult as well as long.  It was often thought that many a life could have been saved if medical facilities were available locally.  The history of Bruce's hospitals share the common themes of local persistence, as well as generosity, as medical facilities were, and still are, expensive but necessary to the wellbeing of communities.
Bruce County General Hospital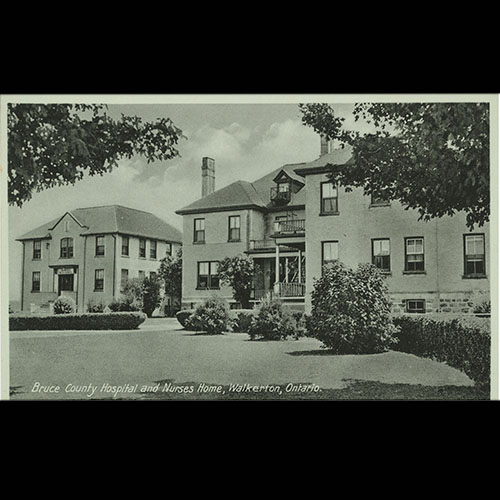 The Bruce County General Hospital got its beginning when William John Moore of Brant Township bequeathed half of his estate to the "aid in the erection and endowment of a hospital at the town of Walkerton, provided sufficient funds were otherwise raised to purchase and erect a suitable building and furniture for said hospital".  In order to obtain the bequest, the County of Bruce General Hospital Trust of Walkerton was incorporated in June of 1900.  In 1902, the County sprang into action and began to raise subscriptions which came from the County, the government, and citizens, some wealthy, such as Henry Cargill. Construction began in the summer of 1902, was finished in 1903, and included a nurses' residence.  Due to the sum of monies raised, the Bruce County General Hospital was erected and outfitted practically free of debt.  This was in large part due to the work of the Women's Hospital Aid Society, which was formed in 1903 and had a branch in most villages and townships.  In eight months, they were able to raise $2,139.73, a large sum for the time.  The society continued its work raising funds for the hospital well after it was established.
Kincardine & District General Hospital
The second hospital to open in Bruce was Kincardine & District General Hospital.  It began in 1906 when a wealthy European woman, Madam Gualco came to stay with the family of Sir Alexander MacKenzie.  She enjoyed Kincardine and purchased property there. In 1908 she announced she had purchased property and would give that along with an annual annuity of $2,500 for it to be used as a hospital and service Kincardine and the surrounding area.  In June of 1909 a charter for the Kincardine General Hospital was applied for and received.  From 1911-1929, a nursing school was run at the hospital, and in 1956, the Dr. John McCrimmon wing was completed.
In 1909, a ladies' auxiliary, which had several different names though time, was formed.  In 1910, these ladies worked tirelessly raising funds organizing Christmas bazaars, fowl dinners, raffles, box socials, concerts, and card parties.  Once the hospital was open the ladies' aid/auxiliary continued to contribute to the hospital in a variety of ways such as making sheets, pillow slips, pajamas, hospital gowns, operating scrubs and dressings when the cost of linen was high.
Lion's Head Hospital
In the early 1920s the women of the Bruce Peninsula Women's Institute branches took upon themselves the task of establishing a Red Cross Outpost Hospital on the Bruce Peninsula.  At that time the closest doctors were in Wiarton, and with poor roads and isolating weather, something closer to those living in the north of the peninsula was needed.  Upon surveying the area, the Red Cross recognized the need, and an outpost hospital was put in place in Lion's Head.
The nurses at the outpost did more than just care for the sick.  They also provided public health checks at local schools, health programming, and there are stories of the nurses aiding veterinarians with animals during difficult births.  For many years a nurse was sent from there to Tobermory for the winter months, as once the snow came the most northern communities were isolated.
Funding for the hospital was always a concern. In the early days, due to the inaccessible roads, it seemed that many people were not taking advantage of its services.  With the outreach programs, resident nurses and those going to remote communities to provide the same services, the residents were able to prove such a facility was required and was used.
The hospital had two locations before being moved to Moore St.in 1965, where it was renamed the Earl Harris Red Cross Hospital.  Though there were always resident nurses, the new hospital had a nurse's residence for those that were coming from outside of Bruce to train as well as for the nurses who wanted to live on site.
Today, known as Lion's Head Hospital, it provides 24 hour emergency care, acute medical care and outpatient services.
Chesley & District Memorial Hospital
Chesley, like many other communities in Bruce County was serviced by doctors and practical or registered nurses before the hospital was built.  By March of 1944 there was a call from local citizens to build a hospital.  An architect was employed by the hospital board to pick a suitable location and the Elliot home was chosen as the most suitable site.  The Chesley Kinsmen then purchased the Elliot home and donated it to the town.  The remaining funds required for furnishings and equipment were raised from Bruce County Council, the Province, businesses, service clubs, private citizens, and surrounding townships. The facility was supposed to have 16 beds, but when it opened in 1948, it had 22.  In 1983/84, the Elliot home was torn down to make way for a new modern facility at the same location.  The new Chesley and District Memorial Hospital opened with 20 beds.
During its time the hospital has faced its challenges with provincial cutbacks to health care in the 1970s.  In 1976, the hospital was closed, but was reopened after it the closure was appealed on constitutional grounds.  There was trouble again in 1978, when the bed count ratios were changed, but again the hospital avoided closure.  Today, the Chesley & District Memorial Hospital works on reduced hours but continues to fight to stay open and service residents.
Saugeen Memorial Hospital
In 1945, as the Second World War was coming to an end, Southampton's Mayor Ellis Millard had the vision of building a hospital in memory of those who paid the ultimate sacrifice.  A veteran of the First World War, Millard knew the trials men faced in combat and their needs upon returning home.  Though located in Southampton, the hospital was to be dedicated to all those who served from Amabel, Arran, and Saugeen Townships, Port Elgin, and Southampton.
The location of Hillcrest Lodge was recommended by provincial officials as an optimal site.  The Lodge, a well-known tourist home with many rooms made it well suited to becoming a hospital and kept conversion costs low.  The Southampton Rotary Club pledged $15,500 towards the purchase of the Lodge in September of 1945.
In October of 1945 a fundraising campaign was initiated with the goal of raising $50,000.  Pledges could be made by monthly donations, and local furniture factories even had an option for direct payroll deductions.  Pledges came in from businesses, full time and summer residents, and Bruce County Council.  The initial goal was surpassed.
When the Saugeen Memorial Hospital opened its doors on October 16, 1947, there were 21 adult beds, two children's beds and seven infant cubicles.  Ellis Millard was the first elected Chairman of the Board.
In 1951, the building was remodeled to provide a waiting room, office space and relocated maternity ward and veteran's ward.  The hospital again reaped the rewards of community support as groups such as the Southampton branch of the Red Cross and Hospital Aid organizations made significant contributions, along with private voluntary contributions and government grants.  The second addition to the hospital opened in May of 1958.
Private Hospitals
Filling the gap for care prior to the arrival of hospitals in many communities were private hospitals.  Here people could be treated by the doctor, convalesce during and after an illness and give birth.  Examples of these could be found in Chesley, Lucknow, and Wiarton.
Buckland Private Hospital
In the late 1930s Mrs. George Buckland, a registered nurse operated the Buckland Private Hospital on Main St. in Chesley. The hospital served as a maternity and nursing home as well as a facility for minor surgery.  During the Second World War there was a shortage of nurses and doctors as they were overseas.  With the scarcity of medical professionals, along with not being eligible for grants, the Buckland Private Hospital closed in 1943.  It later reopened as a nursing and convalescent home when the Chesley & District Memorial Hospital opened in 1948.
Lucknow Private Hospital
In June of 1951, Ralph Hodgins sold his large home on Gough St. in Lucknow to Edward and Mary Baker, who used to home to operate the Lucknow Private Hospital.  This facility had a private hospital license and had the ability to care for more than 30 people.  Through the late 1950s the hospital changed ownership several times and by 1960 was known as the Lucknow Nursing Home.  In 1961 it was sold to George and Mary Newbold, who changed the name to Pinecrest Manor, the name still used today.
Wiarton's Private Hospitals
With most doctors residing in Wiarton but having to service the whole of the Bruce Peninsula, health care professionals were stretched to provide optimal service to all residents. To aid in providing beds and facilities, by the end of the 1930s there were at least five private hospitals located in Wiarton.
One of the earliest was Gilbert's Private Hospital, run by Caroline, or Grandma, Gilbert.  Caroline was a renowned healer from Colpoy's Bay, who, influenced by the Spanish Influenza epidemic, moved to Wiarton in 1920 with the express aim of opening a hospital.  She had a knowledge of herbs, natural medicines, and midwifery, and many sought her remedies. Caroline Gilbert, born in 1867, continued to care for patients in her home until age no longer allowed her.
Located on the east side of Wiarton, run by registered nurse Eva May W. Porter was the Porter Private Hospital. Opening its doors ca.1928, it was considered a full-service hospital; it had a full surgical operating room, maternity ward, a full time staff of registered nurses and kitchen staff.  Often, specialists from Owen Sound also used the hospital to treat local patients. Nurse Porter closed her hospital in 1943 following the death of her husband, who was serving in the Second World War.
On Frank St. were two facilities.  One, known as Root's Hospital, was run by Mrs. W. Root, and can be found mentioned in editions of the Canadian Echo as a place where babies were born or where patients were convalescing.  The other, managed by Mary Spears, was Spears Nursing Home, which opened in 1939.  In the decade it was open, there were approximately 700 patients and 611 babies born including six sets of twins and a set of triplets. Mary Spears closed her nursing home two days before the Bruce Peninsula Red Cross Hospital opened, as the new hospital would fill her role.